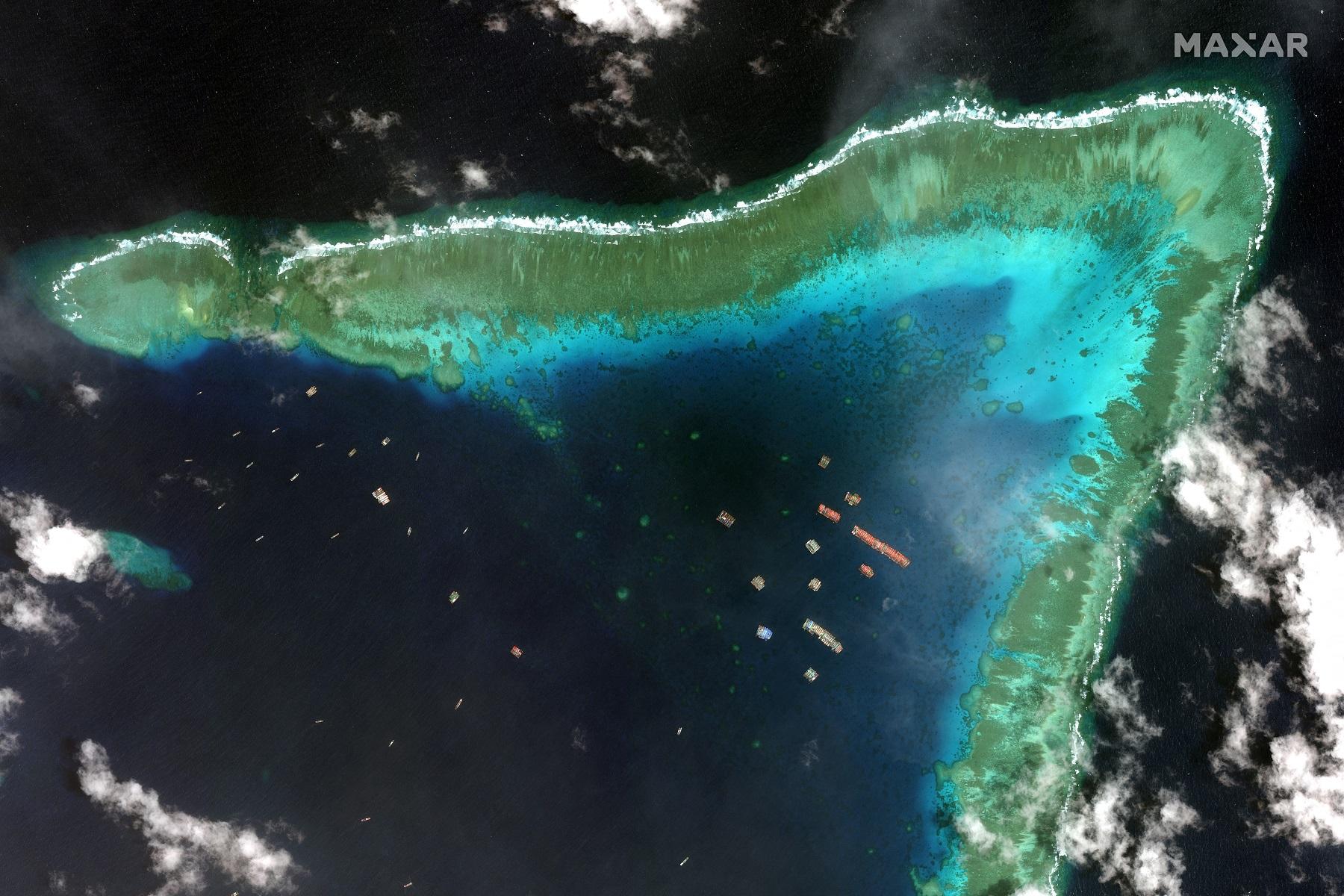 (GMA News) The Philippines will deploy additional assets to the West Philippine Sea (WPS) to assert the country's territorial claims in the disputed area and prevent illegal fishing, among other incursions.
The National Task Force (NTF) on the WPS issued the statement just two days after President Rodrigo Duterte said he wanted to be friends with China and was "not so much interested in fishing" because there's not enough fish to quarrel about in the area.
The statement also came amid the continued presence of Chinese vessels in the Julian Felipe Reef, a boomerang-shaped feature located 175 nautical miles of Bataraza, Palawan and clearly within the Philippines' exclusive economic zone.
"In compliance with the directive of President Rodrigo Roa Duterte to sustain our sovereignty patrols in the WPS, increase safety of life at sea operations and intensified operations against illegal, unreported, unregulated fishing, the NTF-WPS has coordinated for the deployment of more assets under the control of its Area Task Forces (ATF)," the NTF-WPS said in a statement.
"To augment the vessels and aircraft currently under the control of the ATFs, the government has deployed four Philippine Coast Guard (PCG) vessels, one PCG aircraft, five Bureau of Fisheries and Aquatic Resources (BFAR) vessels, as well as Philippine National Police – Maritime Group's high speed tactical watercraft and rubber boats," the NTF-WPS added.
The PCG also constructed five lighthouses on the islands of Pag-asa, Patag, Panata, Parola, and Likas.
The Navy, on the other hand, has provided desalination and solar powered lighting facilities for these features in support of law enforcers stationed at the detachments.
As it is, the NTF-WPS reported that the ATF-West maintains nine island detachments in the municipality of Kalayaan with the biggest contingent at Pag-asa island.
Likewise, the ATF-West covers the Malampaya Gas Field and the resource-rich Recto Bank.
The Pag-asa island also hosts the Rancudo Airfield built in 1978.
The ATF- North, on the other hand, covers Bajo de Masinloc (Scarborough Shoal), the islands north of Cagayan, Batanes province, the Philippine Rise and the latter's Extended Continental Shelf. The ATF-North also maintains detachments on the islands of Batanes.
"The Armed Forces of the Philippines, through the Western and Northern Luzon Commands, continues to support law enforcement and sovereignty patrols of the BFAR, PCG and PNP, utilizing Philippine Navy and Philippine Air Force maritime and air assets under its disposal," the NTF-WPS pointed out.
"The NTF-WPS is resolute in upholding Philippine sovereignty over our territory as mandated by the Constitution, and protecting our sovereign rights over our exclusive economic zone in accordance with international law," the NTF-WPS added… Read More