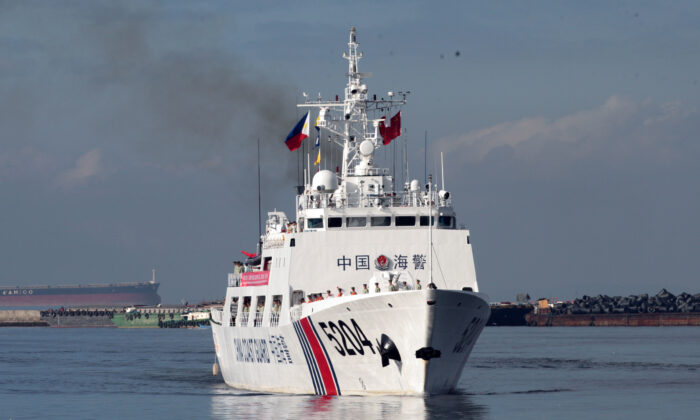 (Epoch Times New York) Philippine Vice Admiral Alberto Carlos said the Philippine Navy received a report at 6:45 a.m. on Sunday that a floating object was spotted drifting about 800 yards off the Philippine-controlled Pagasa Island.
He described the floating object as "metallic" and similar to fragments previously discovered on the Philippines' Palawan Island, according to the state-run Philippine News Agency.
Carlos said the navy went to retrieve the floating object and began towing it with a boat when a Chinese coast guard vessel—identified as CCGV-5203—approached and twice blocked their course.
According to the commander, the Chinese boat then seized the object by cutting the towing line attached to the Philippines' rubber boat and towing it back to the Chinese ship.
No injuries were reported as a result of the incident, Carlos said, and the information was reported to the National Task Force for the West Philippine Sea for appropriate action, he added.
Cherryl Tindog, the Philippine Western Command Armed Forces spokesperson, said the navy decided to return to Pagasa Island rather than resist the seizure because it was not a "life and death" situation.
China's Foreign Ministry denied that its coast guard used force to retrieve the suspected rocket debris, saying that the Philippines handed over the object to the Chinese coast guard after "a friendly negotiation."
"It was not a situation in which we waylaid and grabbed the object," China's Foreign Ministry spokesperson Mao Ning claimed while speaking to reporters… Read More